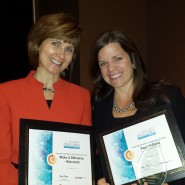 Make A Difference - Wisconsin was named Nonprofit Organization of the Year in BizTimes Media's inaugural Nonprofit Excellence Awards on Tuesday, November 4 at Potawatomi Hotel & Casino. We were honored to be finalists alongside two inspiring organizations, College Possible and Rebuilding Together Greater Milwaukee.
Founder Lloyd Levin and Executive Director Brenda Campbell accepted the award. "We accept this award in honor of an incredible corps of volunteers, partner educators, school administrators, and the many corporate, foundation and individual supporters who give of their time, talent and treasure to make a difference in our community," said Brenda at the event.
Board Director Pam Evason, who has been involved with Make A Difference - Wisconsin since 2011, was also honored, winning the Next Generation Leadership award. We are immensely proud of Pam and grateful for her unwavering support of our organization.
The BizTimes Media Nonprofit Excellence Awards are designed to shine a light on the community impact of southeastern Wisconsin businesses and nonprofits. The program also salutes the work of for-profit organizations, executives and professionals who donate their time, talent and treasure to community causes.