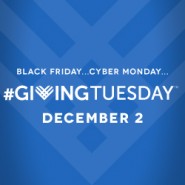 One day. 100 Students.
As materialism and the holidays further overlap, "Black Friday" and "Cyber Monday" — two days designed to increased holiday spending — have become popular parts of American culture. Attempting to reclaim some of the true spirit of the holidays, the #Giving Tuesday movement highlights selflessness, generosity, and social service while encouraging people to make tax-deductible contributions to local nonprofit organizations.
This year, on #Giving Tuesday, Make A Difference - Wisconsin has set a goal to raise $4,500 for our
#Giving Tuesday campaign.
This will enable us to give the gift of financial literacy to 100 students!
Help us reach our goal by sharing why you give to Make A Difference - Wisconsin on social media! We've even created a Facebook cover photo and Twitter header for you to spread the word about #Giving Tuesday!
To use on your Twitter and Facebook, right click on the image and choose Save As.  Once saved, upload the image to your Twitter and Facebook profile.
Twitter Banner:

Facebook Cover photo: